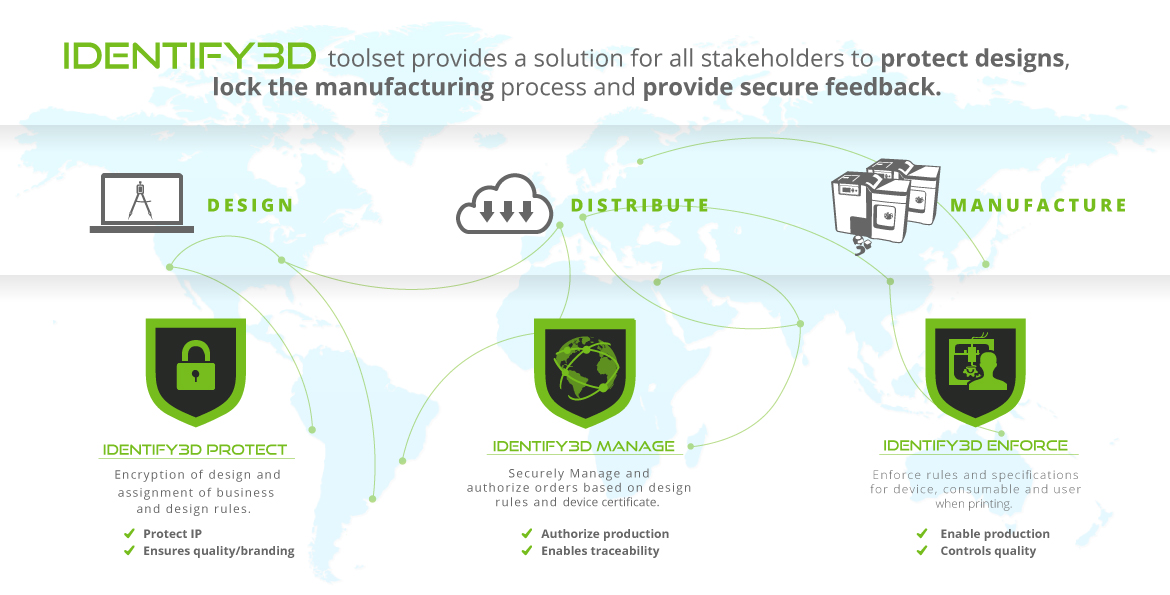 The Problem
Manufacturing industries have expressed concerns associated with the loss of control over the digitization of their assets as they expand their adoption of digital manufacturing.
The Identify3D Solution
We are creating a solution for industrial designers to assign rules and parameters within their designs, protect them, and ensure that parts are produced to specifications (e.g. materials and machine used, speed, temperature, resolution, etc.). Additionally, users are able to receive secure feedback from the manufacturing process.
We Protect Your Digital Manufacturing Ecosystem
Identify3D is a software company that provides design protection, quality assurance, and secure data analytics for digital manufacturing. We enable encryption of designs, couple them with enforceable business and production rules, facilitate secure digital distribution, and provide production integrity all the way to the manufacturing device.
Designers create the CAD/CAM designs needed for their additive manufacturing part. Identify3D Protect enables the CAD designers (individual or enterprise) to encrypt designs and couple them with business and production rules.
Once the part design is finalized, it is then sent to secure storage to await orders. When an order comes through Identify3D Manage facilitates secure and accountable digital distribution. The part is authorized and sent for production.
CONTACT US TO SCHEDULE A DEMO
We will walk you through our Additive Manufacturing Solution and show you how to protect your Digital Supply Chain.